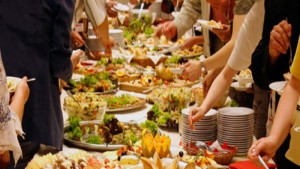 Throwing a party can be stressful—the planning, the setup, the endless list of things to do—but it doesn't have to be! If you're thinking of having a party in NYC and are looking for some help, consider getting a private dining room at a local restaurant. Here are some of the reasons to consider renting a private dining space for your next party:
Skip the Setup
Shuffling chairs around and setting out enough serving dishes for all your guests is tedious and time-consuming. With a private dining room, you can leave all the prep to the professionals! Seating arrangements, food prep, table setup, and everything in between can be taken off your hands by restaurant staff, leaving you plenty of time to get dressed and ready for the big event.
Effortless Cooking
Maybe you don't have the space to cook for an entire party; maybe you aren't quite confident in your skills. Even if you do cook at home often, you might not be used to cooking for large groups of people. Whatever the case, private dining rooms can relieve you of your cooking woes, allowing you to sit back and enjoy the food without all the kitchen stress.
No More Cleaning
Hosting a party at your home means you get stuck with cleanup duty at the end of a long evening, which can ruin your fun. Feel free to enjoy time with your guests and leave strenuous cleanup duties to the dining room staff—just be sure to leave a generous tip!
The next time you want to throw a party, consider hiring one of the many private dining locations NYC has to offer. Whether you're hosting a fun family gathering or a weekend hangout with your coworkers, you deserve to have an evening free of stress and full of fun!